By removing the FatBob tanks, I also lost the speedo, ignition switch and Neutral & Oil Pressure Lights. These had to be relocated. Prof reckoned that he could make a space at the rear mount box to incorporate the lights in the tank! (See his earlier post). These are the "Tell Tales" that were fitted, which was done by simply drilling a couple of holes in the box/tank.
Took a bit of juggling to get the right position so the Lights didn't hit the top tube or the mounts. Here you can see the holes. The light fitting diameter was 12.5mm or 1/2 inch, so I drilled 7/16 inch holes, then hand reamed them out, checking constantly for a tight fit.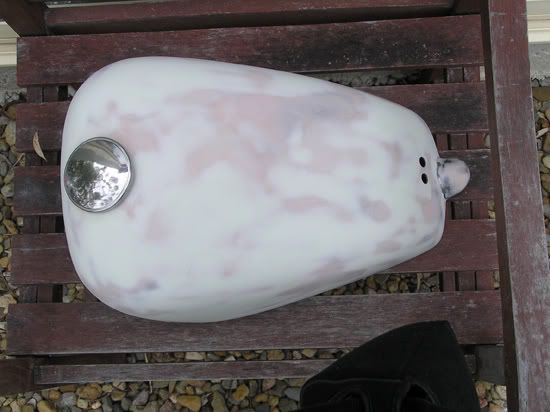 Now it's off to the painter. The paint was done by Eddie of Eddie's Paint Shop at Southport, and what a great job!!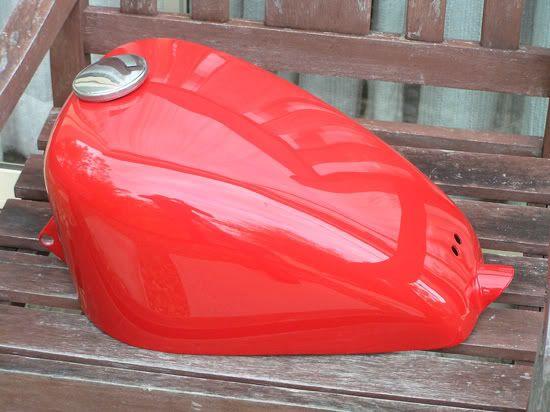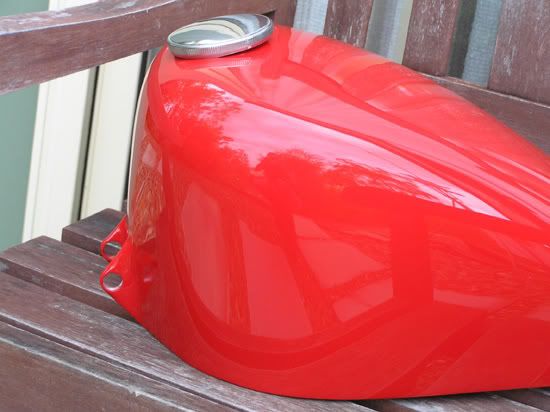 Bit more detailed shot of the front mounts & moulding
A Mini Speedo with resettable Odometer was mounted on the top triple tree, visible here, as well as the Tell Tale lights.
A 3-Way Ingition Switch was mounted on the Transmission Box, R/Hand side.Now when I replace the FatBob tanks, I just reroute & reconnect the speedo cable to the FatBob speedo, reconnect an identical 4 wire plug for the FatBob Tell Tales, and continue to utilize the new Ignition Switch (FatBob one is a dummy only).
Remember what the bike looked like?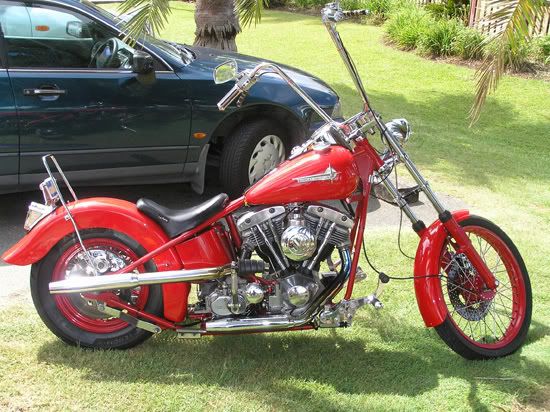 And here it is in its new look!!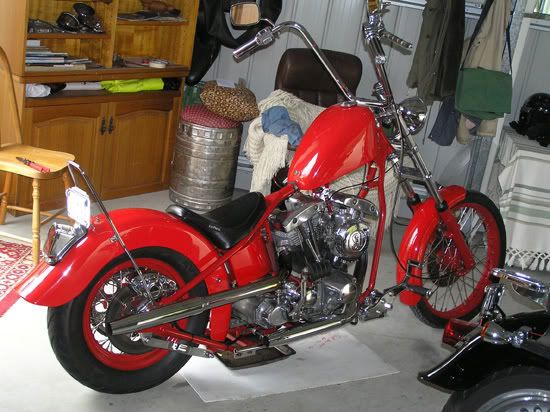 Or even this ....... first outing to the Choppers Australia Queensland Xmas Run & Party.
I want to pay tribute to the work done by Prof on this project. The exercise was done by "Remote Control", with no bike to check & remeasure from, just a few pics with a tape measure held up. When the modified tank arrived here it fitted straight up, bolt holes lined up, perfect fit!! And as you can see from the previous posts, the workmanship, techniques and attention to detail are first class. Thanks Prof! Great job!!