Gday! From Queensland Australia.
Quick 411. I've been building custom cars for my mates and I on and off nearly 10 years, which mostly included engine swaps, complete suspension builds & Airbag suspension installs, paint and panel work like shaving, body drops etc, chassis redesigns and the list goes on. Since I started a family I sold all my cars off and I'm back where I began.
Bike crazy! I race Enduro and MX. This bike will be a daily dragger to get to work on.
I've been on the hunt for a bike for a good base for a bobber.
Ended up with this 91 Yamaha XV1100. Got it for a great price. Everything works and it runs smooth. The motors are super reliable and parts are by the plenty for these. So to me that was a good choice for a first.
I did want something older, but the models that are commonly used for bobbers are pretty rare here, not to mention expensive!
Here it is. With its "pretty boy blue" paint.
Plans are :
Lower it via shorter shocks and fork springs or relocate the mounts. (gotta keep the shocks, roads are terrible out here)
Drag Bars
Springer seat/Or bucket style seat that hugs the frame
6in Rolled Sheet metal rear bob fender, or I'll customize the rear fender. Loose the front fender.
Gloss Black the wheels, satin black mostly everything else
Matt Black engine with some raw high lights
I might do something with the headers like a right side exit on the rear pipe. I'll have to move the fuel pump.
Fast forward... Since it Now has rego..
Spent about 30mins on it..
Hacked the sissy bars off. Left a little bit of length behind. So I can section a bit of the tail and roll it over the end of the pipe and weld it up, smooth it off. So the end of the pipe is not open.
I'll unpick the upper rear shock mounting points and move them up to drop the rear.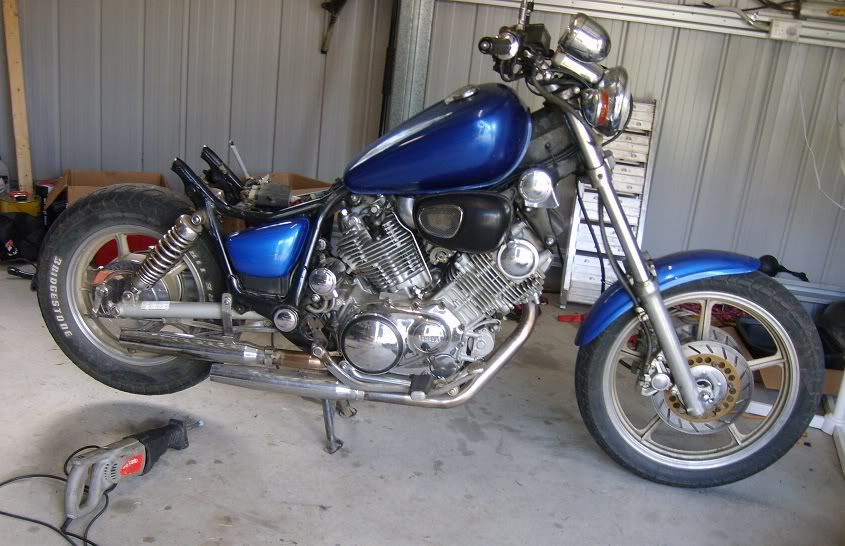 I've decided to go with the stock rear fender. With a fair bit of massaging and panel work I'll get it looking the way I want.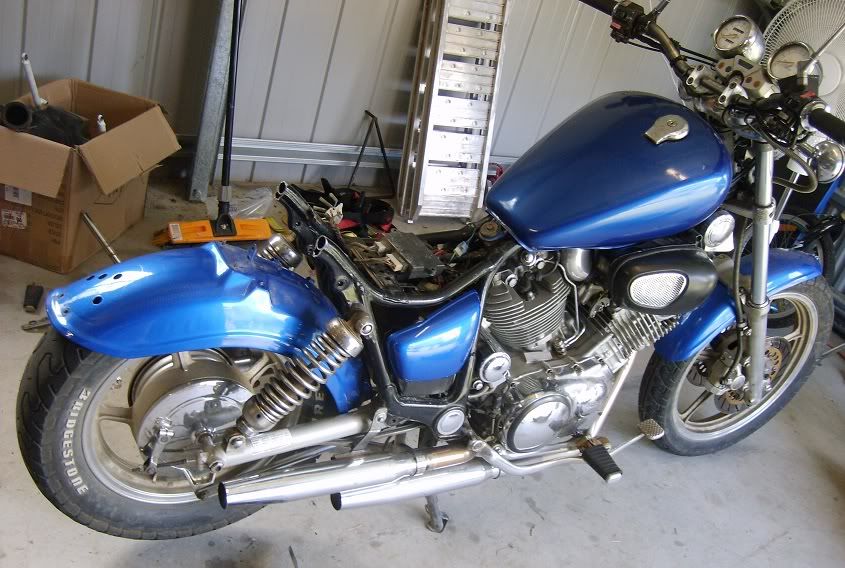 Between the tape lines = Sectioning! I'll cut the middle section out, join it again. And plug all the old mounting holes up and smooth it over again.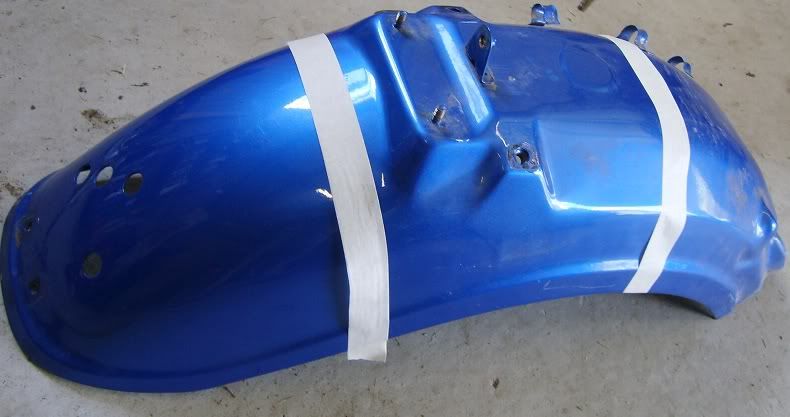 2 hours later and the Shock mounts Done!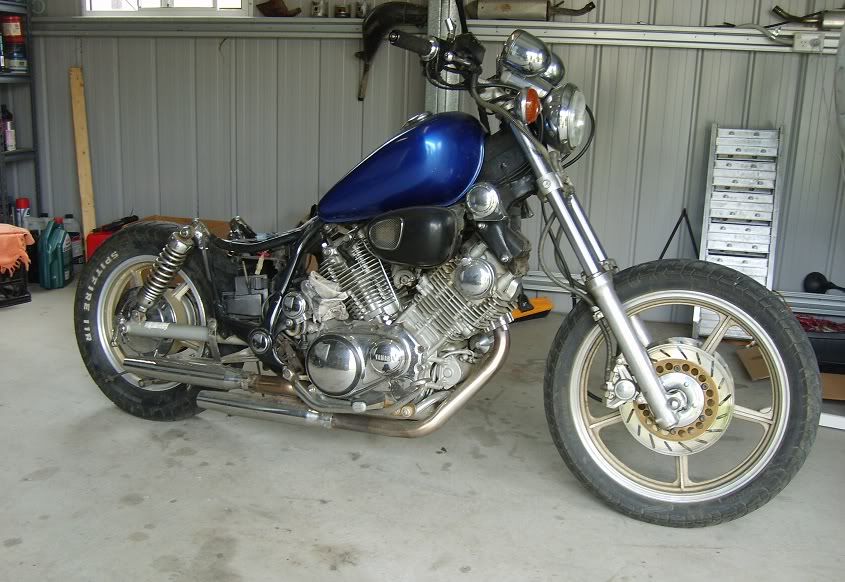 Dropped the ride height about 60mm from a reference point on the engine.
The mount was moved up 45mm from the standard position on the frame. The shocks I have on order are 10mm shorter (290mm) than the standard shocks I'm using here (300mm). So it should lower that hair more.
The stock shocks are shot. Shafts are pitted and leaking.
If I want to go lower, I'll fab up some rigid struts to really slam it for "smooth" road rides. Here in Central Qld the roads suck so shocks are staying in for commuting.
Pipe ends rolled over and all smoothed up with the die grinder sanding disk. Ready for paint. Won't even know its been moved.
Next is the fork. Should make a big difference in the stance. Should look more level.
Cheers all.
Kleaver