Moderators: Prof, Chopper Project Moderators
Posts: 64
Joined: Thu Jul 27, 2006 3:03 pm
Location: Adelaide, SA
hate to say it? errr why?
---
Founder, Choppers Australia
Posts: 6016
Joined: Sat Oct 22, 2005 3:54 pm
Location: Willunga, South Australia
Contact:
Recent photo of progress so far...
Chopit'nrideit... Prof
---
Posts: 64
Joined: Thu Jul 27, 2006 3:03 pm
Location: Adelaide, SA
Simon, you look different in that pic. Just thought I would add that.
---
Yeah rascal, it is probably the t-shirt! i normally wear darker colours and i normally wear that t-shirt under a open black shirt... but it was hot so i took the over shirt off
Well... work is going steady on my Chopper, things are snowballing together... missing parts have turned up in da post, engine reassembly is well under away, electrical is almost sorted and i have machined slugs and turned up some extended seat rails to house the sissy bar and rear fender mounts. Paint work and seat trim will be sorted over Xmas break. I have also registered my bike and changed the engine number, my frame is a 1972 so i got the number plates "Chop 72" Look out for the bike cruisin in adelaide early next year, i am also doing a road trip up the east coast along great ocean road and up to sunshine coast around march next year, i am hoping to catch up with some people from VIC, NSW and QLD along the way, more about that as the time approaches. I will post some pictures up as soon as i can, been busy with Marty's XS as well as some production parts for people, my lathe and mill is gettin a damn good work out
photo's of those things to come also....
Talk to ya's soon guys n gals, and be careful out on the roads this time of year, school is almost out and those roads are getting busier, people this time of year seem to forget what a motorcycle is and seem to be after you
Keep safe, Ride long n hard....
---
I made myself a wiring diagram and got a head start on the electrics whilst all my gear is at the polisher and chromer, now this is sorted i can drop my santee elec box to be rechromed, turned out a lil something like this.....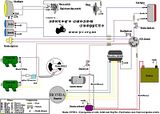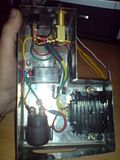 bottom left is starter solenoid, right is reg/rec, above is fusebox (cheap & reliable, not worth making your own), and above that starter switch, ignition swtich, headlight switch and ignition fuse.
running clockwise: ignition switch, starter switch, head/tail light switch, ignition system fuse (also doubles as a kill switch, hence it being external).
electrical system consists of a Dyna S electronic ignition pick up, Dyna 3.0ohm coils, 3 position ignition switch, standard starter solenoid, standard starter motor, push button start, solid state reg/rectifier etc.... Was easy to compile, if anyone needs a hand with a honda chopper wiring diagram and/or electrical system setup shoot me a PM
---
---
---
Founder, Choppers Australia
Posts: 6016
Joined: Sat Oct 22, 2005 3:54 pm
Location: Willunga, South Australia
Contact:
A bigger photo of fuse box and where to obtain it would be helpful for readers. Also what kind of fuses does it take?
Chopit'nrideit... Prof
---
The fuse box holds 4 standard size blade fuses, they are avaliable through narva, they are also avaliable in the mini size fuses, and also come in a bank of 6, i have just recieved another 300 odd page catalogue of electrical products so if anyone is after anything i'd like to help you find the right parts you need, unfortunately the company only bulk order but i would be happy to place any number of items along with one of my orders. I will take a better shot of the inner board and post dimensions once it's taken from the box when it goes to chromer.
---