1957Harley-DavidsonPanhead & 1949Knuckelhead
[/img]
---
---
You have a very good eye for details Cromag. Went back and had a look and found a pic of motor and this description. Cheers mate, Dave
1946 Harley davidson Knucklehead, (Shovel head top end)
New Frisco mount sporty tank, custom fender and struts, laced leather handstiched seat, vintage flood light for head light, custom tail light, custom cigar pegs in brass (rare), custom brass gimp bars with exhile internal throttle mounted on a set of our 6" slugger risers. Frame is a paugho rigid, no stretch or rake. Goodson aircleaner, other feature are: S&S carb, S&S oil pump, new battery and oil lines, new clutch pack, 3" open primo rivera primary.
[/img]
---
Bacca
2002 Old School LONG Springer Chopper
Like the radical '70's Choppers in USA, just needs multi colour paint.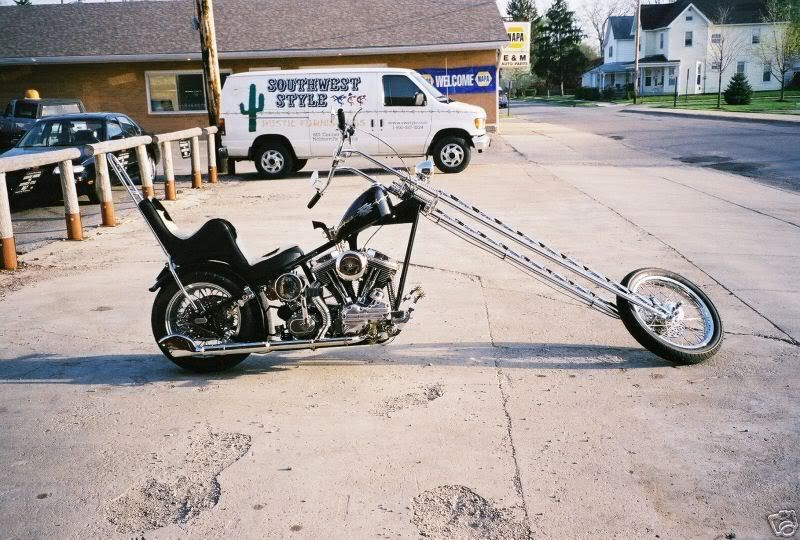 eBay USA Vehicle Description
One of a kind one off radical custom created by designer Scott Stemen . This bike is for the Hard Core rider . . . Hardtail , Suicide Shift , Kick Start (and Electric) and a whopping 40 inch over narrow twisted Denvers Choppers front Springer with a Diamond Chassis Hardtail powdercoated frame with a 7 1/2 inch upstretch and 56 degree rake. Engine built by legendary builder Jim Spears which is a balanced blueprinted 80 inch "PanVolution" . It is an Evo Motor with Pan Head Rockers , side cover , fake distributor , and fake generator . you have and old school look , and performance and reliability of an evo. It is a little different , and has a 5 speed tranny with kicker and electric start. Closed primary and chain final drive. Black Bike classic spoke wheels - 240 rear tire and 19 inch front. Flat bottom custom sportster fuel tank , flat flip rear fender , chrome round oil tank with battery box , custom sissy bar , custom king / queen seat with leather and Scott Stemen signature cowhide. It also has Scott Stemen signature Spur forward controls and rear passenger pegs and of course barb wire accents throughout the bike. This is a true radical custom chopper.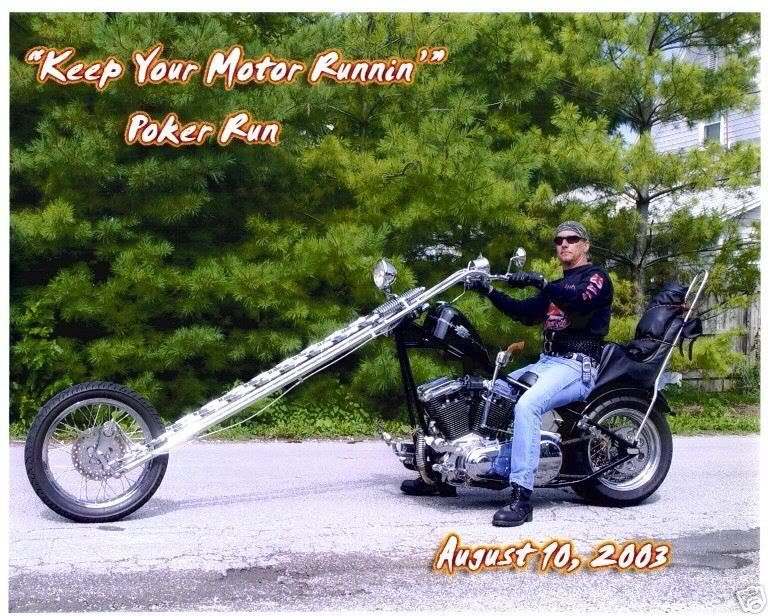 Checkout that pistol grip shifter!!!!!!!!
Buy it now price: US $19,500.00
Never get on the road here........pitty!
---
---
Bacca
Here's one for the girls, who says a girl cant build a chop?
Built by 38yo Amy with a little help in USA
The next 2 are her titals.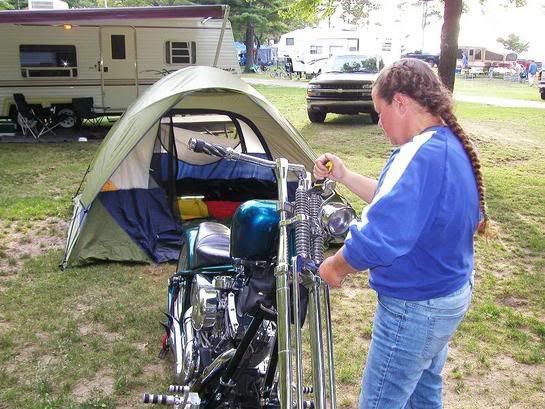 "tightening up my spring(not tight enough I lost it)"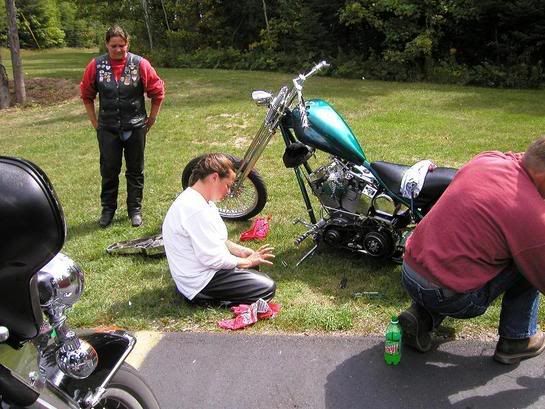 "If you look close with the one that has a couple people in it I had a problem with the starter coming loose in the primary... oops!! we were 500 miles from home. Someone had to fix it!!"
She loves to ride too
Not only does this single mum have a chop but a sporster as well.
Shes on Yahoo Messenger under Aim Chic and likes to talk bikes but remember there 17 hours behind us. (And the yanks think there ahead)
More pics here
http://www.geocities.com/myhdisa883/
A few girls around here like chops, what you waiting for......build one!!!!!!!!!!
Last edited by
Bacca
on Fri Dec 08, 2006 8:16 pm, edited 2 times in total.
---
Damn straight Bacca, Bring on da Chopper chicks! Girls grab a spanner and start swingin
---
Founder, Choppers Australia
Posts: 6016
Joined: Sat Oct 22, 2005 3:54 pm
Location: Willunga, South Australia
Contact:
---
---
---
---