Hey Guys, Been busy fabricating so we can get our engine on a stand so we can rebuild it. Just thought i'd do a bit of a run down of what we did to fabricate this stand, might help you guys in making one for yourself, i wont get too techy on measurements and thickness of steel, although i felt that we could have used slightly heavier square tube and plate but it was all made from scrap that was lying around.... Having said this i have sat on the motor once mounted in the stand and with my extra 100kg's on top it, it didnt give away, still i feel the material could have been a bit heavier.
Click on image for larger picture
Top mounting plates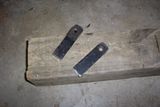 Mounting plates bolted to Block and Square Bar clamped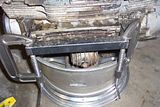 Welded together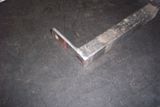 Now for the lower mounts...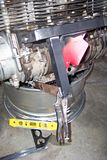 And the other side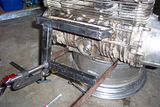 Add another piece to finish the sguare and weld up all the seams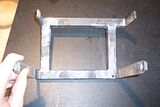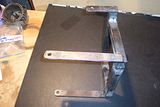 We designed this to bolt on to a Car engine stand, they can be bought from automotive stores for $50-$60 or real cheap from Garage sales, good thing with these you can spin the motor a full 360degrees and lock it in several stages.
Here we drilled a few holes to line up with the slots in the engine stand mount plate.
Then we bolted it to the plate and slid plate into stand....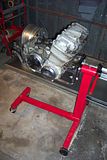 Very easy to make! We used scrap materials and just built it off of the motor, One point to remember is to make sure it is square and flat so it bolts on to the fixture evenly. Obviously the welding is quite important for strength, we welded this together with our DHC 2000 (Formerly Henrob) with mild steel filler rod, it is holding fine (engine has been on it for 3 days now). We havent sanded or ground welds down or anything we left it raw, might hit it with a wire wheel to take peeling black paint off the square tube and give it a etch prime and black paint job. This design allows the oil filter and cover to be on the engine and be removed whilst on the stand. Once the bottom end comes off the stand i will take accurate measurements and draw up plans for any people interested in making this, i might add a couple of gussets to it too for some over kill
Hope you enjoyed this and has given you some ideas on making your own
Until next time, Safe Choppin.....